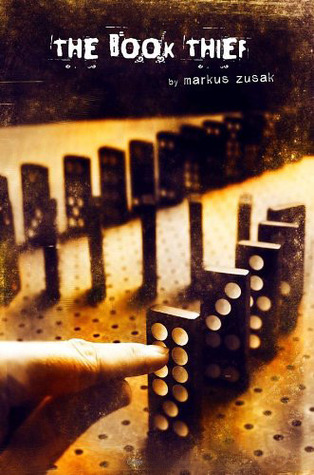 So I have to come right out and say it: I LOVED this book. I've met people who have claimed that it was their favorite book of all and knowing the tiny bit that I knew about it I didn't see how that could be. I get it now. So forgive me if this review is overly sentimental and sappy- I just can't help myself.
It's not just the characters that permanently lodge themselves in your heart, it's not just the moments that stick to your soul- it's the language. The book is about the power of words and that power is demonstrated throughout every beautiful page.
In a nutshell, the story is about a young girl named Liesel Meminger growing up in Nazi Germany and it's as devastatingly sad as you might imagine it to be given that setting. Without spoiling anything let me just assure you that this book will certainly rip your heart out. I can't really say I had any idea of how bad it was for German civilians before reading this book. After countless narratives and films about the holocaust I somehow imagined the entirety of Germany as a country of Nazis and neglected that conditions for civilians during that time, especially those sympathetic to Jews, was almost as bad in terms of the fear, hunger and lack of freedom.
But what really struck me about the story, and what makes it a favorite to so many, isn't the brutality or the horror of that time- it's the beauty that existed within the thick of it. The breathtaking capacity of human compassion, the depth of love, and that indefinable human spirit that makes the narrator so attracted to these creatures he is charged with unburdening.
Death makes a fascinating narrator and as a writer reading this book I was completely and totally drawn in by the tools that Zusak uses to draft the story. The translations: "A Translation of Rosa Hubermann's Announcement- 'What are you assholes looking at?'", the definitions: "A definition not found in the dictionary- Not leaving: an act of trust and love, often deciphered by children" and the short, stand-out moments he emphasizes: "A guided tour of suffering- To your left, perhaps your right, perhaps even straight ahead, you find a small black room. In it sits a Jew. He is scum. He is starving. He is afraid. Please- try not to look away." All these moments cut from the tapestry to pull you further in.
As a narrative device it keeps you on your toes- you can't fall into any reading patterns here, the writing prevents it. And if that's not enough there's always the occasional books within a book as with The Standover Man (with the simple drawings overlain on a white-washed page of Mein Kampf with the words bleeding through- which made me cry so freaking hard) and The Word Shaker (laid out as an ageless fable interspersed with cartoons). At times it feels more like a collection of treasured objects than a book.
It's also interesting how the timeline is death's- not chronology's. As he says at the beginning: "I would watch the places where we intersect, and marvel at what the girl saw and how she survived. That is the best I can do- watch it fall into line with everything else I spectated during that time." There are two standout moments in the beginning that don't occur until much later on in the story which serve the purpose of introducing the style more than anything else- letting you know from the beginning that this is Death's ship and you're just along for the ride. There are glimpses of what's going on outside of Liesel's world, reminding you that this was both the holocaust and war at the same time as it was childhood for the main character.
There were some jumps I never quite got over- letting us know that one of the greatest characters in the book was doomed to die about a hundred pages before he did, and then reminding us in fragile moments that that was coming. That was rough, and it didn't make that death any easier to handle when it did finally come. But for the most part it served the purpose- it drew me in, over and over again and kept me wanting to read. The power of words: it's a theme.
In the end though, what will stick with me the most are the characters. I collect characters like memories- they stick out in the timeline of my life and I remember them fondly as if they were witnesses to it. And these characters are so devastatingly dear to me that I will house them in my heart forever. Max with his hair like feathers and white-washed pages of Mein Kampf teaching our Liesel what words mean. Rosa with her unforgettable terms of endearment and cardboard body, forever slumped over her husband's beloved accordion as she snores. Rudy with his Jesse Owens dreams and talent for theft demonstrating what true friendship (and an endless yearning to be kissed) means. Hans with his silver eyes, pallet of paints and priceless accordion proving that love is the strongest emotion of all. And of course Liesel- the girl who's desire for knowledge was nursed and nurtured by this cast of characters, allowing her to blossom into an amazing story teller. All of them- and all of those beautiful moments with them- will stay with me for as long as I have memory and I will love them.
This book was amazing. One of my favorites. And I can't be more grateful to have read it.